Benvenuto!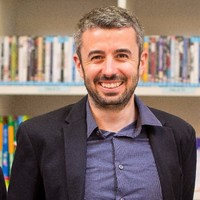 My name is Antonio Lucicesare. I'm an Italian teacher and teacher trainer with more than fifteen years' experience teaching Italian in London to both native and non-native English speakers. I currently work at the Italian Cultural Institute and previous experience at King's College London and University of Greenwich, Regent's College and London Business School. I also work as a freelance teacher for several language agencies and companies.
I like to take a communicative approach to my teaching. I focus on designing interactive and enjoyable lessons that help learners of all ages to improve their skills and gain confidence in using Italian for effective communication. I am also really interested in the use of new technologies in language teaching and learning.
Ciao! What can I help you with?
Learn Business Italian online with a highly qualified and experienced teacher. Book today your tailored training with clear results. Just email me.
In addition to my love of the Italian language, I'm passionate about Italian cinema, history and culture.  I'm a particular fan of my region, Puglia , which is famed for its red earth and olive groves, rugged coasts, beautiful beaches, and wonderful food.  I organize unique, tailor-made holidays with language schools in Italy, in Puglia, in Tuscany, Rome, in Sorrento and more for my students where they can stay with an Italian family, take language classes, learn how to cook Italian specialities, see the region's best sites or just enjoy a few lazy days on the beach!
If you'd like to get in contact with me to talk about learning Italian, or visiting Italy (Puglia , Tuscany, Lazio, Sorrento or Rome..) feel free to send me an email at antonio.lucicesare@gmail.com
Looking for a online private tuition ? I am here to help
Learn how to speak Italian! Drop me an email: antonio.lucicesare@gmail.com
Grazie mille for using ilearnitalian.net Antonio
Have some questions? Get in touch
Here is another way to reach me:

More about me:
International House: MoLaCo 2013