To master the prepositions you need a lot of practice therefore try with this activity.
First combine the ten definite articles with the basic prepositions and form ten combined prepositions. After that, fill the gaps in the following six phrases. Use only six combined prepositions and click on the answer keys to check your answers.
Buon lavoro, Antonio
Forma le seguenti preposizioni articolate.
| | |
| --- | --- |
| di+le= | di+i= |
| a+le= | su+l'= |
| su+gli= | in+lo= |
| da+il= | a+i= |
| in+il= | a+il= |
Usa le preposizioni articolate che hai formato per completare l'esercizio.
Oggi andiamo _______ Musei Vaticani.
Voglio vedere il Museo ________ cere.
Il prezzo______________biglietti è 3 euro.
Le rose sono _______ soggiorno.
Esco di casa _______ otto.
I miei libri sono _______ zaino.
Ecco qui la tavola completa delle preposizioni articolate.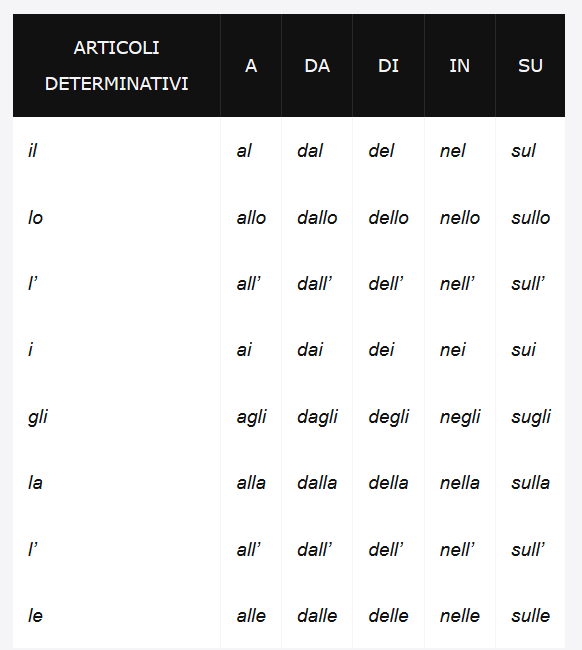 Check now here : combined prepositions from www.ilearnitalian.net
Trova l'errore: cambia o aggiungi la preposizione quando necessario
La colazione è compresa nello prezzo della camera.
Per arrivare sull'università vai dritto e poi alla prima strada a sinistra.
L'ufficio postale è davanti alla ristorante greco.
L'edicola è accanto allo supermercato.
C' è un parcheggio vicino al stazione?
Vado per prendere una pizza, vuoi qualcosa?
Ti piace giocare il calcio?
Appena finisco lavorare ti chiamo e organizziamo qualcosa per stasera.
Davanti di Duomo c' è un albergo molto carino e non è tanto costoso.
Cerco per gli occhiali da un'ora, sai dove si trovano?
La farmacia è fra il teatro e la chiesa.