In the hills of Alto Molise, in Agnone,Mercedes rises at 3.30 to prepare loaves for the wood fired oven, using logs from her woods, and grain from her fields.

The pane casereccio of her childhood was nothing like modern bread, even from the best local bakers.
Using methods traditional in her family, alternating crops, using animal 'sterco' (manure, no chemicals) and keeping part of their 15 hectares fallow, she's able to produce a high quality wheat, with only a small amount of gluten. I love rising early and driving out to the little forno to chat with Mercedes, although I have never been there before 6.30!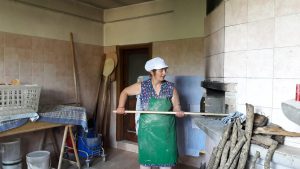 30 kilos of bread are made daily and once that's done, Mercedes makes delicious trays of pizza and a traditional breakfast cake, 'pagnottini', sweetened with a little local honey. A small quantity of potato in the dough, keeps the bread softer for longer – a very old recipe from a time when bread needed to last weeks. And hers does, in fact, it's better after a few days.
It's a long morning, and around 10.30 Mercedes cleans up and shuts the bakery, tending next to the vegetable garden. The whole family helps with the grain fields – but then the house needs cleaning, and there are all the other chores. When the family's 25 goats are giving milk, she also makes cheese, and once a year they slaughter a pig.
Her son, Luca, who's very capable and entrepreneurial, would like to carry on the work and expand the small holding but he's been forced to find a factory job. This kind of rural life is dying out because laws and heavy taxes make it pretty much impossible for the younger generation to earn a living.
Baking was traditionally a women's job – and the men tended the land. But today, with regulations really working against small farmers, the women have to keep the land singlehandedly and bake, while the men get jobs in factories, or run their own enterprises. An example of this is our driver, Fernando – he's a cattle farmer, but has a 9-seater vehicle and a thriving taxi service. Mina, his wife looks after and milks their 50 dairy cows.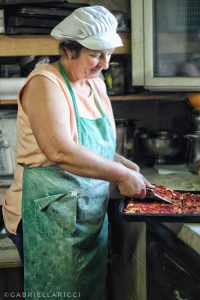 Mercedes is an engaging and amusing woman, full of insights and observations. She's cautious about the future but resourceful, and tough. It's an incredible pleasure and privilege to spend time in the bakery as she works, tasting the crusty pizza with tomatoes and herbs, right from her garden. She tells me stories and from time to time I have to say, piano piano, per favore, piano, as she gets caught up in a memory, and her words start to tumble out far too fast. I can honestly say I've never eaten pizza like hers.
Meet and engage with the locals in Italia, ask me how.