….going back to the old days when granny made pasta for the whole family
On Sunday 5th of November we will start at 11.00am and we will speak Italian ..
so also a short introduction on cooking terminology will be given by the Italian teacher who will help with the vocabulary and assist during the preparation.
These cooking lessons are for everyone in a very pleasant atmosphere and as part of an informal, informative and fun day!
So………Let's Mani in pasta!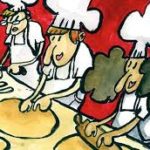 Simona will teach you how to make pasta dough from scratch: kneading, rolling and encourage your creativity and finally closing to make the real handmade Italian pasta con farina di castagne.
And after we will enjoy what has been prepared, eating all together our Italian  pasta with chestnut flour!
But no worries, there will be some for you to take home too..
By taking part in this "Pasta lesson", participants will expand and deepen their knowledge of Italian language and food culture.
A glass of Prosecco and nibbles on arrival will welcome you
When:  November 5th from 11.00am to 3.00pm
Where: Casa Tua- Camden 176 Royal College St, London NW1 0SP
Cost: £39.90 per head which includes all the ingredients, the use of equipment, Prosecco and nibbles on arrival.
Few places available, booking essential
Organizers: Antonio & Giuseppe
Booking required:gamoroso77@gmail.com    antonio.lucicesare@gmail.com