If you visit Sorrento, don't forget to stop at an inlaid wood store!
Sorrento inlaid wood work it is a decorative composition obtained by cutting, inserting and putting together different coloured pieces of wood to create a design or picture. These pieces are then set into a surface to create a design that is usually level with the surface.
The art of handmade inlaid wood work is an old and noble Italian tradition typical of Southern Italy, especially the Sorrento area, and can only be performed by skilled and highly trained artisans whose craft is handed down from generation to generation. The first records of inlaid art go back to the Middle Ages where it was known as "Certosina Woodworks". During the Italian Renaissance the artisans and their apprentices reached high artistic levels by copying the drawings of the many famous contemporary artists of that era. This age-old craft continues to flourish to the present day. In order to produce the inlaid design the artisan first creates, from the veneer, wood sheets no thicker than 6 millimetres each, using different kinds of wood to realize the different colours of the final design.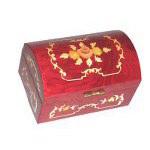 The pieces are then put into some hot sand for a few seconds which scorches (singles) the edges and creates the shading. Finally the inlaid pieces are combined to create the composition of the desired drawing. The inlays are all produced by hand according to traditional methods some at remarkable levels of skill reached by the craftsmen. Each particular work is a unique piece and its value is proportional to the quality level obtained. The quality level is measured by many important factors: refinement of design, choice of woods, delicacy of the hand work and the perfect execution of the final stages of gluing, dressing and refinements.
The Sorrentine peninsula boasts a secular tradition in the art of marquetry. From the first half of 19th century, talented Sorrentine artisans were the first to acquire such technique, which spread extensively all over the Neapolitan territory.
Useful vocabulary
inlaid wood> legno intarsiato
marquetry> intarsio
surface> superficie
artisan> artigiano
by Sorrento lingue,Italian language & Culture courses
Read more
Learn Italian in Sorrento and visit Amalfi Coast