Sorrento prepares not only for Christmas holidays but also for the new year's holidays in a particularly inviting way. Among the best attractions, in addition to music, gourmet demonstrations and fireworks, you can find also nativities and nativity figures.
Famous for its "tourist look" which makes it particularly inviting during the summer period, the town keeps its traditions in the field of hospitality and welcomes even when it is less expected.At this time Sorrento prepares to welcome in the best possible way all those tourists wishing to visit it, and creates a playful, festive atmosphere for the local inhabitants. Cultural, gourmet, musical and entertaining shows will be organised during the month of December to make Christmas a festival for everyone: in this particular time of the year, Sorrento will be once more the privileged destination of many tourists who will take advantage of the festivities to familiarise themselves with the town and all its typical activities, from the inlaid woodwork to the typical products such as the "limoncello" (typical lemon liqueur), which could be welcome gifts to put under the tree.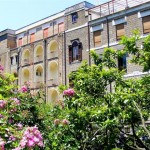 On December, 31th just the fireworks (traditionally used to welcome the new year) are able to obscure the many illuminations which adorn the streets of the Sorrento Coast and the shop windows that display fantastic offers for Christmas shopping in Sorrento.
Amongst the many attractions capable of enrapturing everyone, there are the many nativities, the nativity figures dating back to the 18th century such as: the Cathedral nativity, the Sedil Dominova (former Government seat of the noble family) nativity; and also in the Basilica of Sant'Antonino, in the church of the Servants of Mary, in the Church of Our Lady of the Annunciation, in the Carmine church.
Those ones being keen on this kind of things, may easily organise an excursion to appreciate the nativities or the equally renowned nativity figures in San Gregorio Armeno in Naples.
There are many events that are not to be missed, which claim the attention of everyone every year and make a new year holiday in Sorrento particularly fascinating!
by Sant'Anna Institute,Sorrento Italia
Read more:
Study trip to Sorrento and Amalfi Coast
Limoncello, the original recipe