I arrived in Lecce after a long train journey from Milano and was happy to be met by Maria Rossini, my Italian teacher and host for the next two weeks, who created "Scuola Mondo Italia Homestay".  Maria had arrived on foot and was waiting at the station for me with Maya, her cute, little pug dog.
Italian lessons given enthusiastically, varied and fun whilst adorable Maya slept, snoring quietly in her chair. The walls of the bright, large, teaching room displayed an amusing pictorial map of Italy and a large world map.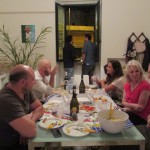 The Sunday evening after my arrival Maria organised a convivial student dinner where I met other language students from Florida, Switzerland, Germany and Holland.
The teaching room was transformed into a candlelit supper room for the occasion where we ate pizza, salad and ice cream, washed down with the local vino, negroamano and primitivo. Later in the week the guys made dinner and each cooked a typical dish from their country.
A highlight of my homestay was the memorable visit to the Schiena Vini near to the small countryside town of Villa Castelli. Peppe led the way with Maria and our eleven strong party followed along a wide path down the middle of the pristine vines either side,treading on the deep red Puglian soil, high in iron content. Peppe's philosophy of the vineyard is that everything is done by hand, a mano. Each whole bunch of grapes is carefully harvested by hand, no mechanism is used  and is without chemicals.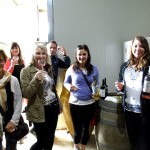 On the way back to where we began the tour, we stopped to pick and eat ripe cherries from the fruit trees, the best I've ever tasted. After Peppe explained everything about the vineyard, he unlocked and rolled up the steel shutter of the building where we had first met and we were invited to step inside a large wine storage area. On a brightly decorated table a generous feast of local produce was laid out: baskets of fresh pane, formaggi, salame e prosciutto, simple fare but a wonderful sight for hungry visitors. Let the wine tasting begin!
by Susan Ann, student @ Scuola Mondo Italia Homestay
Read more
Pettole, a traditional Italian recipe