I just needed a break so I asked myself: "Do I book a trip for the weekend? … maybe a SPA" … but even that did not convince me and then I thought: I am in Lecce, what better way to explore some places in Salento!
My weekend was scheduled in three days:
On Friday: Acaya and Otranto
I left for the Adriatic coast to visit the small town of Acaya, a fraction of Vernole counting roughly 500 inhabitants.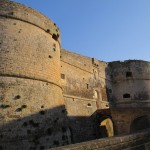 This fortified town from the Middle Ages is enclosed by walls that welcome the Castle and the small but cosy old town with buildings made entirely of local stone.
And needless to say how much I was fascinated not only by the architecture, but also by the beautiful sunlight reflecting in the local stone that gives the gold colour to the buildings!
After a quiet and relaxing walk through the alleys of the old town and, of course, a caffè Leccese  (a single espresso in a glass cup with ice and almond milk), I am ready to leave for the next destination: Otranto.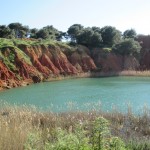 The beautiful and romantic city in the East of Italy boasts clear waters and beautiful places to visit, such as the Castello, the Old Town, the Cattedrale with the famous mosaic of the tree of life and the extraordinary Quarry bauxite.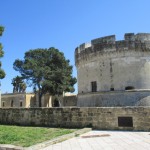 I could not believe my eyes how much natural beauty I could enjoy on this day. The nature, the sea and unique natural views are in my mind because their rare beauty makes me believe more and more that Lecce and Salento is the best place for a perfect stay!
So … in the meantime that you dream looking at these photos, see you at the next tour!
Arrivederci,  by Maria, Italian host tutor in www.italiahomestay.com, Lecce, Puglia 
To be continued…
Next time I will tell you about my Saturday in Gallipoli and Punta della Suina and Sunday in Maglie and Leuca.
Italian courses in Italy:live & study in your teacher home-follow Maria 
Read more:
Pettole, a traditional Italian recipe