If you're considering escaping to Italy not only for art and architecture, food and wine, history and culture – but to progress your knowledge of Italian – look no further than the little known region of Molise.  Most people haven't heard of it, including some Italians, and there's a joke that claims "Il Molise non esiste…"
Not true. It's a stunning region, un-spoilt, open to discovery, and off the tourist trail. The Apennines offers a breathtaking landscape for walking and hiking, the rural countryside offers fresh seasonal food of optimum quality, and the local people offer fascinating stories from their history, traditions and culture.  I created Live and Learn Italian precisely because that's what we can offer, on a daily basis.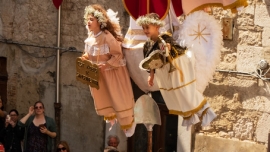 It's not easy to get to, which is why there are no tourists, and no English-speaking locals -but  it's worth it. One of our 2018 guests wrote –  Live and Learn Italian is the mastermind of Londoner Jenifer Landor, whose ancestors hailed from Agnone, in Alto Molise. Jenifer has assembled a delightful collection of teachers, guides, and residents to assist her in providing a stellar experience for her students. Every person on the team lends their time and patience to helping you improve your Italian language skills, in and out of the classroom.
After two weeks, I was thinking and dreaming in Italian, and my conversation and comprehension improved immensely. I learned so much, quite apart from vocab and grammar; about bi-yearly shepherd migration, organic farming and winemaking, the secret to perfect pasta from scratch, and how to make a church bell… Even more rewarding were the people I encountered.  Students, local guides and hosts often dined together, sometimes at restaurants, otherwise in private homes. Meals often stretched to three hours, accompanied by excellent wine and conversation, in Italian, of course.
If Live and Learn Italian sounds like an experience you'd enjoy, mi raccomando (I'm telling you) – don't hesitate! Do it! It's only been a month, and I'm dreaming of going back.
Please take a look at our website https://www.liveandlearnitalian.com/, get in touch with any questions. (Participants will be collected/dropped of at Rome airport – so don't worry about the 'difficult to get to bit'…)
Antonio is a strong supporter of L&LI and I'm delighted to offer his contacts via ilearnitalian.net a discount for our 2019 visits.
Session 1: 1 – 15 June Session 2: 15 – 29 June Session 3: 24 August – 7 September  Session 4: 7 – 21 September
by Jenifer, founder of liveandlearnitalian.com