In 1662 Leonardo Di Nucci was a shepherd moving his herds along the tratturi. The wide tracks that weave through Abruzzo and Molise down to the plains of Puglia. The Di Nucci family have been making award winning artisan cheese here in the Apennine hills, in Alto Molise, ever since.
Today, the 11th generation of the family use the same methods and ingredients of their forebears – a whey starter and raw milk, avoiding the use of any preservatives or milk enzymes. Their milk is sourced from carefully chosen local producers resulting in an amazing product in which you can actually taste the grasses and herbs of the seasons. No two cheeses are the same.
Franco Di Nucci took us around the small factory where the hand-made cheese is formed by a dedicated team of craftsmen.The visit was unforgettable – incredible smells and tastes. Franco is a superb speaker, giving us the family story in slow and very clear Italian and explaining carefully to our students when they got a bit lost. He is passionate about his family history and the rich artisan culture of this region. The love and attention that is poured into his produce is evident.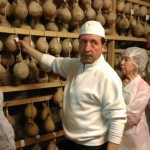 Caseificio Di Nucci continues to win international recognition, in 2013 gaining the 'Supergold' of the World Cheese Awards. Ricotta, stracciata, scamorza and caciocavallo are the most distinctive cheeses of this region.
As a surprise bonus to the visit we discovered that our driver, Fernando, is one of Franco's valued milk suppliers!
That night we ate Di Nucci's scamorza arrostita, using scamorza made from the same pasta as the caciocavallo. It was delizioso!
Not all classrooms have four walls.– Studia in Italia: scrivimi