I live in a small Apulian town, very cozy and typical in the province of Brindisi called Villa Castelli.
The origin of the name is still undefined, but it is said it derives from either "Li Castelli" or "Monte Castello", due to the presence in the area of two castles: the Palazzo Ducale built with towers and cannons and the Palazzo of Antoglia, very impressive. In any case, for sure we know that then the name Villa Castelli ("cities and castles") became the final name.
It is from this enchanted place that my project started.
I have always had a passion for foreign languages and for travelling, because I deeply believe in the meeting of cultures and since I am always happy to know new ones, after several trips to Europe, I decided to let the world come to my house and to give the possibility to my guests to know the jewels of my land: my beloved Puglia.
It's my home the symbol of this meeting, where through the door you enter an Italian world made of myths, legends and curiosity (do you know the lavurieddo?), but also of truth and unforgettable experiences where all leave their mark.
I have always believed in this, so I became a teacher of Italian as a second language through study and experience. My dream is to convey our language and our culture in a welcoming atmosphere made of family and friendship, made of Italian at 100% because I wish that the Italian language leaves an indelible sign of love in the hearts of everyone. In fact, over the years Finns, Americans, British, Dutch and Czechs who have enjoyed our hospitality and our services have followed. Each of them has chosen accommodation in a typical family context: a single room or in our home or in our trullo just steps away from us, to enjoy our traditions and our past and followed one of my language courses and Italian culture, structured with interactive and entertaining materials, also related to the topic of the day. I remember with pleasure the lesson of the tarantella that saw the end of the day with a fun-filled evening of dancing under the stars and much, much good food.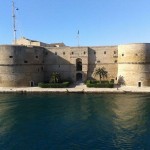 We like to organize excursions and guided tours because we believe that the stereotypes of Southern Italy should be killed and that now is the right time to show the world the extraordinary beauty of Puglia. Puglia, the hill of the boot is unique and magical, offers many original and interesting activities, such as pottery workshops, guided tours in vineyards and olive presses to closely see the production of the best Italian wine and oil, it has the mythical trulli that make people dream of domes and legendary symbols, archaeological sites for fans of ancient history and beautiful seaside city for romantics.
I can not forget that in all this no one speaks a language that is not Italian and the thrill of being surrounded by pure Italian climate is absolutely charming and unique.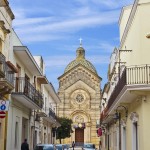 My family is my staff, where we are all "all for one and one for all"! The fantastic cook of the house is my mom that every day delights anyone's palate with delicious recipes from the Apulian cuisine, whereas dad, a supporter of the true Italian football is great company for all kinds of talk and of course, the backbone of our family. We love to involve our guests in all our activities, from the rafting day to the trip at the market, because we are a very active  and dynamic family, with many interests and entertainment to want to share together. It's just sharing our strong point.
Oh I forgot … to represent all that there are our two mascots: Maya Louise and Gigino ! A cute pug with a curly tail that from her eyes she shows love and sweetness with her little brother more than cunning and dispenser of pampering and fun … oh yes, because we love animals and without them everything would be different !!!
Puglia is made of many colours and many shades that make you dream so … please … don't wake me up!
by Maria, Italian teacher in  Italiahomestay.com, Italian host tutor in Puglia
Live & study in your teacher home: follow Maria on facebook