Here in Agnone, Alto Molise since ancient times, the shepherds of the Apennines have been moving their herds along the tratturi, the wide tracks that weave through Abruzzo and Molise down to the plains of Puglia. This seasonal migration is called la transumanza – which translates as crossing the lands – a constant search for better grazing in the changing seasons. The tratturi are a network of trails, extending more than 250 kilometres.
In the past, the shepherds left their families in late November and often did not return until May. This constant change and movement had a profound effect, not just on the cultural traditions of the region, but on the psychology of its people; the search for greener pastures, through endless generations, might well be the primary reason that emigration from Molise and Abruzzo during the mass exodus of the early 20th century was highest per capita of all of Italy. These were not by any means the poorest regions of Italy – yet they left in their droves, mostly travelling to Argentina and the United States. Perhaps this ancient tradition of moving, constantly, to better one's conditions is the reason?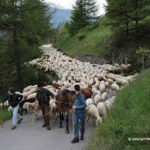 In 1662 Leonardo Di Nucci was a shepherd moving his herds along these same tratturi, carrying on horseback the copper basins and wooden tubs for the daily production. Using a whey starter and raw milk, the family became masters of their craft, and was asked by the Italian government to teach other young men of the region. They have been making award winning artisan cheese here in Alto Molise for 11 generations.
Today Franco Di Nucci and his children still use the same methods, avoiding the use of any preservatives or milk enzymes. They do not keep their own herds, asserting that to concentrate on their craft and leave the excellent husbandry of the animals to carefully chosen local producers, gives the finest possible results.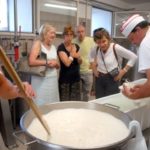 Caseificio Di Nucci continues to win international recognition, in 2013 gaining the 'Supergold' of the World Cheese Awards. Ricotta, stracciata, scamorza and caciocavallo are the most distinctive cheeses of this region.
After a visit with the students of Italian to il caseificio to see the daily production, we always enjoy scamorza alla griglia, an Agonese favourite!
Join us to interact with a community steeped in ancient traditions and full of these fabulous family histories.
Language and culture visits off the beaten track.. by Jenifer, student and founder @ LiveandLearnItalian.com