Way off the beaten track, nestled in the Apennine hills in Molise, is the little town of Agnone, home of my ancestors. Here, our family have been making bells for the Popes for over 1000 years in the world's oldest bell foundry.
This is a rural community, not of contadini, but of world-class artisans. At one time in the early middle-ages there were 9 bell foundries, yet the main industry of the town which brought it wealth and prosperity, was always copper.  Today, sadly, most of the workshops are silent, but at one time the centro storico buzzed with the sound of little hammers deftly refining and decorating the many utensils and vessels. There were 13 copper foundries and over 300 family botteghe.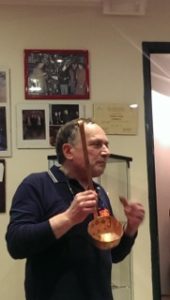 Along the Verrino river, water turned huge wheels in the foundries, pounding the copper into basic shapes.  Cold winters and a chilly autumn and spring in the mountains facilitated the craft, as hours were spent in front of a hot furnace or over a constant flame. This work was extremely hard, but copper stamped "Agnone", achieved the highest price in the marketplaces of Italy. The town had brought in strict rules of manufacture, not only for copper but for all the trades: bronze sculptors, stonemasons, jewellers, watchmakers, blacksmiths, tailors, shoemakers, and many more.
These regulations became law in 1457, and anyone found cheating the standard was fined heavily; thus Agnone maintained its position as one of the 5 cities of Italy producing the best artisan work. Today every house in Agnone proudly displays inherited copper utensils handed down through generations. During our summer courses we join the local women to cook, and we acutally use these ancient tools, the quality is superb and clearly not just for one lifetime, but for several!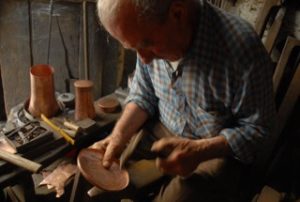 Next door to the workshop of master coppersmith, Franco Gerbasi, is the newly established Museo Del Rame. Franco is 4th generation, and has taught the trade to his sons who work beside him. They sell copper vessels all over the world, the most popular being for distillation, but so many other items, impossible to list.
Franco spent years collecting the copper pieces and archive material. When asked why he simply responds,

"Per non dimenticare………."
Live and Learn Italian

 offers Italian learning holidays, off the beaten track. We welcome anyone wishing to improve their Italian and explore a traditional community far from tourism and commercialism. Local hosts and guides are brought together to share the extraordinary culture and ambience of this town.
We aim to help preserve the many ancient traditions, customs and crafts of the region, and to bring income to the community without in any way compromising its authenticity.
by Jenifer, founder of
http://liveandlearnitalian.com/
Check Summer school programme here