It can be hard to find a place in Italy where you can really live in an authentic town, get involved with local people, and speak and listen!

The little town of Agnone, steeped in an ancient culture, has many traditions binding a friendly community.


It's what goes on outside the classroom that makes the experience so special.
Here's just a flavour of some of the many activities we get up to:
Gruppo Folclorico
 They are keeping alive the dance and music of the region: They always turn up when there's a serenata -a tradition going back centuries when a young man serenades his beloved outside her window (sometimes for hours) until she (hopefully) lets him in and accepts his proposal. These days it's a bit of fun, the wedding already planned. The whole town joins in the singing, and then is invited in by the bride's father for refreshments. We join them in rehearsals, learn the stories of the dances, and chat afterwards over dinner.
Le mani di Maria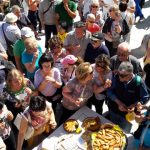 Maria invites us into her home to make pasta, and while it rests, we whip up a quick batter, stuff zucchini flowers with mozzarella and anchovies, and fry. Later she demonstrates how to make lace – le mani di Maria non hanno prezzo – Maria's hands are priceless, her daughter-in-law says. Cooking together helps lose inhibitions, and Maria and her family don't speak English anyway, so we all have a glass of wine and join in. Dinner, all together around the family table, is of course, delicious.
 Per non dimenticare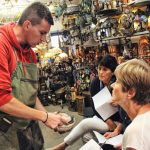 At the ancient copper foundry Franco explains why Agnone was so famous for copper production and demonstrates some of the skills he learned from his father and grandfather. He is a passionate about keeping this story alive and has created a very personal museum.
Eduardo, a stone mason, is also keeping a family trade alive. In the studio he demonstrates the process, and talks about his art. It's quite an insight – and a challenge for one's Italian!
Up one of the side streets of the centro storico is Carlo's house with the old cantina where he makes  vino, passata e salame. We sit around with local characters and hear stories of families; how their lives have changed and how they have stayed the same.
This is just a hint. No two weeks are the same – the programme is structured, but there's flexibility. Events depend to an extent on what's going on at the time. We meet whoever's interesting, do whatever helps us learn and practise Italian, and go wherever engaging people draw us in for a stimulating an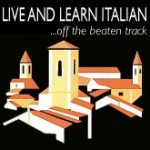 d sociable convivial programme. Oh, and we study Italian in the morning with qualified native speakers, Jenifer
If you are interested in finding out more, visit our website