What is rosa (pink).
Rosa is a ribbon hanged on the front door to announce a girl's birth.
Rosa is a chick book un romanzo rosa or some gossips on a tabloid cronaca rosa.
Rosa is the rose quartz or a learner's permit il foglio rosa.
Rosa is the traditional Italian female name.
Rosa is part of the Italian idiom which describes the Italian positive approach to life il futuro è rosa.
Rosa is the lovely song by Lucio Battisti Con il Nastro Rosa.
Here in Puglia, rosa is the colour of primavera, announced by the peach trees blooming at their best.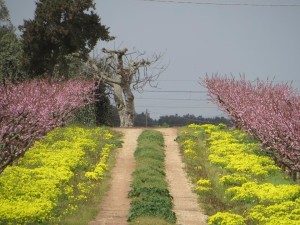 Learn Italian idiomatic expressions, traditions and colours
Verde (green) is a free telephone number, numero verde.  Verde d'invidia is an envying person but sono al verde when I am broke.
Azzurro is the Italian light blue to describe the sky and the sea and the title of a famous Italian song by Adriano Celentano. Azzurri is our national football team while Principe Azzurro is our Prince charming and finally azzurro is a ribbon hanged on the front door to announce a boy's birth.
Rosso (red) is the wine at the restaurant. Rosso is used to describe passion and love, rosso fuoco (flame red/ bright red) is also your flashy new car and probably, your bank account will be in rosso after that. But tonight, before going home, buy a lovely pesce rosso (gold fish) for your son.
Giallo (yellow) is a  girasole (sunflower) but also a book (detective story) or a film. Giallo is definitely a story with Inspector Montalbano. Giallo is the colour of mimosa (the acacia flower), a traditional Italian present to women on the Woman's Day.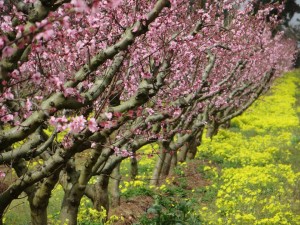 Bianco (white) is your wine at the restaurant (always pairing with fish in Italy) but  mangiare in bianco is what you do if you don't feel well (eat plain food).
Nero (black) is  for una giornata nera, when everything goes wrong and most probably after a gatto nero (black cat) jinxed your day.
by Michela, teacher & director@ lacanto.it in Salento, Puglia
Early bird offer: book now your Italian language course and get 10% discount
Read more by Michela: