Have you ever heard about the story of a wooden puppet who is able to walk, speak, eat and whose dream is to become a real boy? Of course you did! We are talking about Pinocchio, the main character of one of the most famous Italian childrens novels, "Le avventure di Pinocchio", written by Carlo Collodi from Firenze. Pinocchio is well-known for his nose, which grows every time he tells a lie; so well-known, in fact, that pathological liars are said to be affected by the "Pinocchio syndrome" and that Italians use to say that la bugia ti corre su per il naso (which means that you can detect a liar only looking at his/her facial expressions).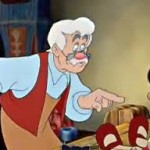 Pinocchio is irresponsible, disobedient, impudent and he runs away from his "father" Geppetto as soon as he is able to walk. After leaving Geppetto, the puppet meets a lot of strange characters, popular as much as Pinocchio in the Italian culture.
Mangiafuoco (literally "fire-eater"), the master of the Great Marionette Theatre, an irascible and ugly man, large and with red hairs, who sneezes every time he moves to compassion. And if an Italian friend calls you "mangiafuoco", start asking yourself if you are a bossy and irascible person…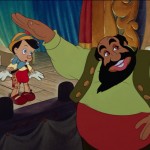 Il Gatto e la Volpe, (The cat and the fox) a pair of greedy cheats who lie to Pinocchio in order to rob him of his few belongings. In the Italian imagination they are icons of cunning and tricks: "essere come il gatto e la volpe" means to be inseparable… mainly to behave dishonestly. And how could we forget the Italian song "Il gatto e la volpe" by Edoarbo Bennato? Listen to it and you will learn not to trust the cat and the fox.
Il Grillo Parlante,(The talking cricket) who tries to give good advices to Pinocchio. He represents the conscience of the puppet, who continues to joke and laugh without listen to him. Do you like to invite constantly other people to behave in a good way and to be wise? Well, pay attention, you are becoming a "grillo parlante"!
La Fata Turchina, (The blue-haired fairy) a warm-hearted fairy who forgives the misbehaviour of Pinocchio and tries to help him in all ways. So if you are a kind and sympathetic woman, always ready to help others (even too much), keep calm and begin to train you patience: you friends will start soon to call you fata turchina!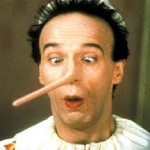 And if you want to know more about Pinocchio, you just have to choose whether reading the original fairytale or watching one of the movies based on the novel. I personally suggest "Le avventure di Pinocchio", directed by Luigi Comencini (1972) – with an unforgettable Nino Manfredi in the role of Geppetto – and "Pinocchio", directed by Roberto Benigni (2002).
by Alessia Accorrà, teacher@ Kappa Language school in Rome