To see stunning summer views in different directions across the Bay of Naples, Italy you should visit the point of land protruding from
the Sorrento peninsula
known as Punta del Capo.
Many wealthy Romans built holiday villas on the panoramic points along the Sorrento coast and so it is not surprising that there are the extensive remains of a 1st century Roman villa on Punta del Capo.
You can explore the ruins at any time of the day free of charge and you will also find that it is good spot for photography.
How to get to Villa Pollio: leave Sorrento along Via del Capo in the direction of Massa Lubrense. You could walk, taking in the view over Marina Grande along the way, but it is uphill and can be hard work in hot weather. Or you could take the Linea A (Line A) orange bus to Capo di Sorrento from Piazza Tasso, which takes about ten minutes. Get off at the small hamlet of Capo di Sorrento, where there are a few shops and a bar.
Il Bagno della Regina Giovanna
You will see a signpost pointing to i ruderi romani (Roman ruins). It is a pleasant walk down to the sea along Via Punta Capo past the church of San Rosario.
You will come first to a natural triangular pool with an archway of rock over it which is known as il Bagno della Regina Giovanna (Queen Joan's bath). The clear shimmering water in the pool attracts swimmers and snorkellers in the summer.
On the tip of Punta del Capo are the ruins of a large Roman villa which would once have had grand rooms from which the panoramic views of the bay could be enjoyed. The villa would also have had access from the sea for visitors arriving by boat.
Who built Villa Pollio? Many people believe that the villa was built by wealthy Roman citizen Pollio Felice and that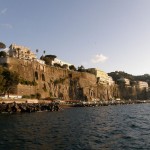 the ruins are of the magnificent holiday home described in the writings of both Horace and the poet Stazio. Pollio Felice was a learned historian, orator and poet who founded a library in Rome and was the protector of Virgil and Horace.
Queen Joan's bath may have once been the swimming pool for the villa and it is thought there were also some beautiful gardens and a vineyard.
Another school of thought is that the
referred to by Horace and Stazio was actually located at nearby Marina di Puolo, a small beach further along the coast, and that the extensive buildings on Punta del Capo belonged to someone else.