Learning Italian, it is an on going struggle – of course the biggest challenge is to find the time; without constant practice it's so easy to forget.
Practice must be on a daily basis!
That's a tall order, but little and often can work and here are two tips:
1) talk to yourself in Italian (in your head or out loud!) when you are standing on the tube platform or walking down the street – you can keep a scrap of paper handy to note questions or things you are not sure about as you chat
2) read! I myself resisted for a long time deeming it too hard…. But I've discovered it is a fantastic way to learn and to be reminded. Authors tend to repeat the same kind of phraseology and vocabulary, which is great for learning modi di dire and vocabolario.
 You don't need to read for too long – 15 minutes per day is do-able and done regularly produces good results.
Find a book
that you actually want to read, that keeps you wanting to know more
that tells a linear story; magical realism or too many changes back and forth from present to past can be confusing
by Jenifer, founder of Live and Learn Italian in Agnone, Molise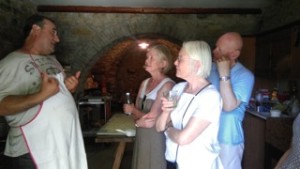 Agnone, is in a small town where the locals are very friendly and eager to communicate, but do not speak English. The programme has been structured to combine daily lessons with multiple opportunities to practice speaking – over cooking with the local women, visits to the artisan workshops, tours of the centro storico and other historical and cultural sights, and family food producers of the region.
Our hosts are all happy to share their methods, family histories, and stories, and join you for a coffee on the terrace. It is really up to you how much practice you get – chat with the staff at the bar and over dinner, engage with our driver who is also a dairy farmer, learn about the various regional cheeses directly from the makers – this is the slow life and people have time to connect with you. And they want to – they are far off the tourist track so they are interested to know where you have come from, why you are learning Italian and how you like their town!

Courses this summer are booking up but there are some slots available June 25th and July 16th and a few still free September 3rd
Info and bookings: jenifer@liveandlearnitalian.com  +447771 750 189
For information, or do call if you want to talk anything through 🙂
If you liked this, you will probably want to read these: