Discovering the beauty of Tuscany: Montepulciano, a wonderful town located on the top of a hill, surrounded by vineyards and olive groves with one of those views which has made Tuscany famous the world over.
Practice your Italian and fill the gaps with the expressions in the list, buon viaggio!
Una gita a Montepulciano
davvero / dove /insieme /Insomma /mentre /poiché /Qui /tutto
Level B1.2+
Una gita a Montepulciano non può definirsi tale se non ci si addentra nelle campagne e nei territori verdi della Valle d'Orcia: questo luogo, Patrimonio dell'Umanità, ci ha attirato nelle sue terre mozzafiato (1)_______ importante parco naturale, artistico e culturale. (2)_______ è possibile vagare per il verde, sedersi in riva all'Orcia e ritrovare il contatto con la natura e il benessere proprio (3)_______ si scopre passo dopo passo uno dei luoghi più ammalianti d'Italia.
Un momento (4)_______ romantico!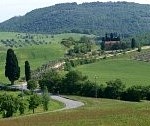 Poco distanti, i borghi di San Quirico e Montalcino sono mete da visitare: ricche di storia e cultura, con monumenti e strade che riportano con la mente a un passato lontano, e (5)_______ ancora si respirano le tradizioni e il folklore provenienti dalle memorie dei tempi. Una visita alle terme di Chianciano sono il coronamento di una vacanza davvero unica e ricca di fascino: qui c'è da restarsene (6)_______ il giorno in relax, godendosi le acque e tutto il benessere sprigionato da questi luoghi magici.
(7)_______, per chiunque desideri una gita davvero romantica (8)_______ alla propria anima gemella o anche con la famiglia al seguito non c'è bisogno di arrivare lontano: in Italia ci sono dei veri e propri paradisi per chi vuole restarsene in intimità con il partner e vivere pienamente tutti gli odori e le meraviglie della natura, coltivare il proprio bagaglio culturale e assaporare le delizie delle terre nostrane: a noi è bastato viaggiare e perderci tra le splendide terre toscane dell'area di Montepulciano, per ritrovare serenità, complicità e benessere!
Adattato da:  Silvia, teacher @ ilsasso.com, Montepulciano, Tuscany
Interactive exercise: una gita a Montepulciano
Read more..