Bring the flavors of Italy into your kitchen with this original recipe from

Montepulciano in Tuscany

. Start wth this riddle and follow the instructions to bring real Italian food on your table.

INDOVINELLO
é perfetto per condire la pasta fresca (i tradizionali pici di Montepulciano, le tagliatelle, gli gnocchi), ma anche gli spaghetti e tutti i formati di pasta.
È  l'ingrediente fondamentale per le lasagne. Provatelo anche con la polenta e sui crostoni di pane….che cos'è?
Completa la ricetta con l' imperativo, poi assicurati di avere tutti gli ingredienti e ….mettiti al lavoro!
Ingredienti : Carne macinata di manzo e maiale 500 gr  CIPOLLE 1-   CAROTE 2- SEDANO 1 costa    CONCENTRATO DI POMODORO 120 gr    PASSATA DI POMODORO 1000 gr- VINO ROSSO 1 bicchiere SPICCHIO DI AGLIO 2- OLIO D'OLIVA 4 cucchiai da tavola SALE q.b.-  PEPE NERO q.b.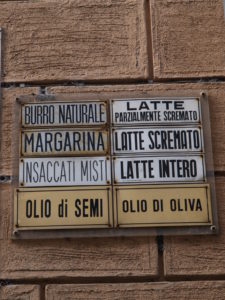 Completa la ricetta con i verbi all'imperativo
abbassate /  lasciate / fateci / versate / tritate /  fatela / mettete / aggiungete (2) / pulite / unite (2)
.………. e ………… il sedano la carota, la cipolla, gli spicchi d'aglio e il prezzemolo per il soffritto.…………. l'olio in una casseruola e ………. soffriggere a fuoco basso le verdure per circa 10 minuti.Quando le verdure saranno appassite ………. la carne e …………..  rosolare per circa 30 minuti. ………….. il sale e il pepe, poi …………  il vino rosso. Quando il vino sarà evaporato, …………. il concentrato di pomodoro, diluito in poca acqua. Infine ………… la passata di pomodoro, …………… la fiamma al minimo e …………… cuocere per circa 2 ore.
Ma per i vegetariani e i vegani che non mangiano il ragù?
Ecco l'alternativa per chi preferisce non mangiare né carne né  uova.
Guarda il video "Pici alle briciole con erbe aromatiche" e metti in ordine le fasi della preparazione dei pici.



Adesso il condimento!
Tritare l'aglio e metterlo in un tegame con olio extravergine di  oliva. Quando l'aglio e l'olio iniziano a soffriggere, aggiungere le briciole di pane e le erbe aromatiche. Aggiungere sale e pepe. Quando i pici sono cotti, lessarli per 7 – 8 minuti e poi saltarli in padella! Buon appetito,