We asked Enrico to tell us more about the programme in Rome
Home is…
where my amatriciana is.
First thing you do when you arrive back in Rome?
Get a real coffee.
What advice would you give to a tourist?
Just leave the touristic side of the city for when you'll be older. Discover the real Rome, explore suburban neighbourhoods, get lost in the streets of Pigneto or San Lorenzo. Live it.
If you had to be locked in a building overnight, which would it be?
Definitely Palazzo Pamphilj, current head quarters of the Brasilian Embassy, with his magnificent frescoes from Pietro da Cortona… I've always dreamt to visit the place in solitude.
Best place for a romantic holiday in Rome?
I would suggest a B&B in the Monteverde neighbourhood. The place is simply delicious and it's location is priviledged, since it is very close the most romantic spots of the city (Gianicolo, Aventino ecc.)
What would you do if you were Mayor for the day?
Though questions in times like these! A politically correct answer: party hard and no work for a day with free concerts all around the city parks: Villa Borghese, Villa Ada, Villa Pamphili, Parco degli Acquedotti. All of them filled with music!
Earliest Rome memory?
Me and my grandpa making a looooooong walk (at least for me back then!), from Piazza Navona to Piazza Risorgimento. That was the first time in my life I've crossed a bridge.
Best meal you've had in Rome?
Well, this might be "veg-unfriendly" but… the famous "Maialino arrosto" at the Osteria "Pippo lo Sgobbone" is something beyond extraordinary… and very traditional too.
If you could buy any building in Rome, which would it be?
My grandparent's building, which is a very old house in a narrow side street of Via della Scrofa. Buildings like that, erected in the XIX century from the ruins of old medieval houses, are so soaked of history and past lives that living there is a moving experience.
What are your favourite late-night hangouts?
Underground music clubs, such as 360° in San Lorenzo, and Squats such as Strike and exSnia. Places with awesome music and good and affordable food\drinks.
What is your favourite Rome discovery?
The fresh wind coming from the Tirrenian Sea in summer evening. We call it "ponentino" and it kisses gently the western neighbourhoods of the city giving some relief to roman citizens at the end of our hot summer days. That, together with the "pasolinian" poetry of some western roman suburbs such as Trullo or Magliana: really refreshing.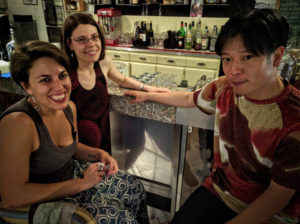 Best advice for your students
Rome is a great place to practice Italian while having a lot of fun, especially for young people. Go out, attend events, meet the locals: you'll have time to sleep when you go back home!
by Enrico, teacher at Kappa Language School in Rome
Andiamo? Ask me how.