Every term, at the end of the first lesson on my beginner courses, I always have at least one student coming up to me and asking how long it's going to take before they can speak Italian.
Learning Italian, or any other foreign language, is a cumulative process that takes time and effort. But here are 5 tips from your teacher to help you make good progress in just 10 weeks.
1. Be disciplined
Commit to learning every day. It need only be for 10 minutes! Create your own flashcards using paper and pen or, if you are more of a "techie", use online flash cards (which are freely available) and build your own vocabulary. Try to memorise 10 new words every day. That's 280 new words by the end of the month. Not bad!
2. Listen and repeat
Watch TV, follow free lessons on youtube or just listen to Italian songs , Italian radio, Italian films so that you absorb the sound of the language. In the first few days you probably won't understand everything, but you will be learning how to pronounce Italian correctly. You'll be surprised of how many free resources you can find out there on the web.
3. Make new friends
Attend free lectures and events at the Italian Cultural Institute, join online forums and sign up for Facebook groups . Join in today and start chiacchierare in Italiano!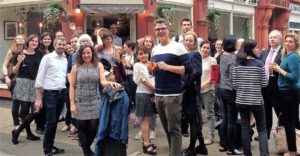 4. Make mistakes, but keep on trying!
It's normal to make mistakes; your aim should be to communicate. Language is a tool to order at a restaurant, to ask for directions, to make friends. Think about the way kids learn: first they listen to their parents, then they start repeating what they hear. They make mistakes but usually manage to express what they want and need. In the end they develop fluency and grammatical skill in their language. Speaking a new language is a wonderful process that opens doors to a new world, culture and way of life. Don't be shy; make mistakes, have a laugh and keep learning!
5. Take a holiday!
What about a study trip around Italy? Language courses are not expensive, (a 1 week course can cost you as little as 150 Euros). Choose a morning class, and after your lessons go and explore, discover the area, or learn to cook Italian food. How about staying with an Italian family?  You will definitely learn Italian more quickly, as well as a getting a chance to meet the locals, eat authentic food, and understand more about the country.
Collect moments and memories not things!  It's never too late to learn Italian!