Have you thought about learning Italian online?
When I first started teaching in 2006, I was a bit sceptical about the effectiveness of online teaching. However, since then I have accumulated a lot more experience, and I'm now much clearer about the benefits and advantages. I'd like to share a few things I've learned along the way.
How to learn Italian online
Online learning offers you the opportunity to:

Learn at a time and location that works for you. You can schedule your lessons at any time and any place that suits you, so long as you have an internet connection. No need to spend any more time on public transport travelling to your class each week!
Speak one on one with a native Italian teacher who can help you to improve your speaking, understanding, writing and reading in Italian.
Work to a personalised lesson plan where you can decide the topics you want to study and shape the way you want to learn. This might include discussing articles from Italian newspapers, videos, songs, or extracts from films or novels. Set your own learning goals. You might need to prepare for an exam, or a job interview or a wedding 🙂
Receive instant feedback from your teacher. Online learning allows you and your teacher to work from shared documents, for you to benefit from instant feedback on your work and a list of relevant vocabulary at the end of every lesson, and to receive a recap of what you've learned each week in your email box.
So why online lessons with me?
I am a native Italian speaker and experienced awarded teacher who has taught Italian for more than 18 years, including at the Italian Cultural Institute in London and Kings College, University of London, London Business School, Regent's College, University of Greenwich, European Medicines Agency, European Banking Authority. I have experience designing individual and group lessons and exams for beginners, intermediate and advanced levels. I have also run workshops on learning Italian through film and presented teachers' training workshops on technology in class.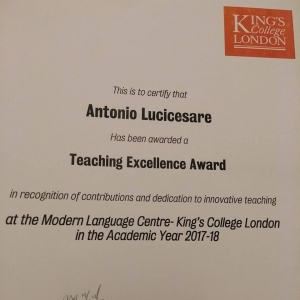 12 years ago I created a blog and began to carry out research into online teaching and learning. My blog now features more than 400 articles, grammar activities, videos and exercises to help students to learn Italian online.
I recommend online lessons lasting around 50/60 minutes, plus personalised homework and additional activities to improve and enhance your learning experience. Mainly directed at people who, for profesional reasons, are unable to attend regular classes.
Why don't you book your online lessons today!