Explore Sorrento: a beautiful Italian town situated in the Neapolitan Riviera.
Explore Sorrento this summer and discover a town full of exciting things to do and see. It is full of Mediterranean charm and visitors will enjoy the Southern Italian lifestyle. With many cafes and shops, Sorrento holidays will be enjoyed by every member of the family. Visitors can learn about the culture and enjoy some of the finest Italian cuisine!
Holidays to Sorrento have so much to offer. One of the most popular places in the Sorrento area is the Sant'Agata Sui Due Golfi. Here, visitors will enjoy the breathtaking scenery overlooking the Bay of Naples and the Bay of Salerno.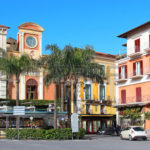 Explore Sorrento with Sant'Anna Institute
What to do in Sorrento
Glance across Sorrento's evocative landscape and you will see the soft pink, blue and ochre buildings of Piazza Tasso, Sorrento's main square. The square is lined with tables and chairs and is very much at the heart of the town.
Sorrento's array of shops, restaurants and nightlife makes for the perfect break. Whether you are treating yourself or bringing back traditional souvenirs such as hand-crafted marquetry and handmade sandals for loved ones, Old Sorrento is a great place to start. Stretching from the seafront on to the main street, Sorrento's historical centre is the ideal shopping location.  Don't miss one of Sorrento's weekly antique markets selling everything from jackets to handbags.
The charming streets of Sorrento come alive at night with an array of restaurants and bars. In the summer months the locals will fill the outside terraces of the cafes and restaurants creating a bustling atmosphere. Visit one of the many piano bars that offer live music whilst enjoying a bite to eat.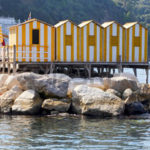 Experience the taste of Sorrento around every corner. Food lovers will be in gastronomic heaven on a holiday in Sorrento with plenty of restaurants to choose from, plus food and wine tours enabling you to take a little bit of Sorrento home with you.
Famous names from this area include Taurasi Riserva (red wine) and Greco di Tufo (white wine).
Study and Learn Italian:explore Sorrento with Sant'Anna Institute
Sorrento is most famous for the delicious yellow liqueur, limoncello. Though it's not clear who was the first inventor of the drink, it is a product that is consumed across the Sorrentine Peninsular and the surrounding areas. This lemon flavoured liqueur is suitable for many occasions including as an aperitivo or digestive and even on gelato & macedonia (fruit salad).