Watching a film in Italian, either at home or in class, is one of my students' favourite activities to improve their language. And who can blame them! Films provide full immersion in Italian culture!
Let's start with the soundtrack. Italy has some truly great film score composers (or 'maestri') who are now almost as famous as their director colleagues. Film scores often powerfully evoke a particular historic period. Just think about La Dolce Vita, and perhaps you can hear the Nino Rota track in your head!
Then there's location. From North to South, from Rome to Naples, from the mountains to the sea, watching an Italian film is one long, pleasant trip to Italy!
And finally, consider the language itself. You can watch, listen and learn. Different accents, a spot of dialect and the everyday Italian language and authentic dialogue you don't often find in a textbook. You can find it all here. Film provides some hugely valuable insights into the country, its people, culture and language. So, now just choose your film, sit back and enjoy!

Buona visione, Antonio
Best Italian films to learn Italian
Un classico: Ladri di biciclette also known as The Bicycle Thief, is a 1948 Italian neorealist film directed by Vittorio De Sica. It tells the story of a poor man searching the streets of Rome for his stolen bicycle, which he needs to be able to work.
Una commedia musicale: Basilicata coast to coast (2010) A music group and a journalist cross the region of Basilicata by foot to attend a music festival.
Una commedia:   Pranzo di ferragosto ( Mid-August lunch). The table is set for this very Italian, very funny, yet touching movie. It captures the essence of living the Italian life and the universal need for friendship and human contact at any age.
A must see: Cesare deve morire, is a drama directed by Paolo Taviani and Vittorio Taviani. Inmates in a high-security prison prepare for a public performance of Shakespeare's `Julius Caesar'.
 Commedia romantica: Pane e tulipani (Bread and Tulips)  is a romantic Italian comedy. The film is by Italian director Silvio Soldini. After being forgotten in a highway café during a bus trip, a housewife decides to start a new life by herself in Venice.
Drammatico: Un borghese piccolo piccolo, literally meaning a petty petty bourgeois, also known in English as A Very Little Man, is a 1977 Italian drama film directed by Mario Monicelli. It is based on the novel of the same name written by Vincenzo Cerami. The first hour is a fine example of commedia all'italiana but the second part is a psychological drama and a tragedy.
I Am Love (Io sono l'amore) is a 2009 Italian romantic drama film directed by Luca Guadagnino, set in Milan around the year 2000. The film follows an Italian family through changing times and fortunes, and its disruption by the forces of passion..It is the first installment in Guadagnino's self-described Desire trilogy, preceding A Bigger Splash (2015) and Call Me by Your Name (2017). The cast is led by Tilda Swinton as Emma Recchi..
Drammatico: Dogman (2018) The latest drama from Matteo Garrone is inspired by a true story. It features a Cannes award-winning performance from Marcello Fonte as a gentle dog groomer who finds himself in a dangerous relationship with a violent former boxer.
Commedia/ Drammatico: Tutto quello che vuoi (2017) – A young man named Alessandro begrudgingly accepts a job as a companion for Giorgio, an elderly poet with Alzheimer's. As they banter during their daily walks, they slowly piece together Giorgio's long-buried memories, revealing clues to a hidden treasure. A film about memory and the dialogue between the generations and keeps you on your toes throughout.
Un giallo: Le conseguenze dell'amore also known as The Consequences of Love is a 2004 Italian psychological thriller film directed by Paolo Sorrentino. It tells the story of a lonely and secretive Italian businessman living in a Swiss hotel.
Drammatico, La meglio gioventù, (2003), an Italian epic that follows the lives of two brothers, from the 1960s to the 2000s.
Un'altra commedia: Mine Vaganti (Loose Cannons), Tommaso is the youngest son of the Cantones, a large, traditional southern Italian family operating a pasta-making business since the 1960s. On a trip home from Rome, where he studies literature and lives with his boyfriend, Tommaso decides to tell his parents the truth about himself.
Una commedia "religiosa":Habemus Papam,(We Have a Pope) is a 2011 Italian comedy-drama film directed by Nanni Moretti. Its original title is Habemus Papam, Latin for "We have a pope", the phrase used upon the announcement of a new pope. The film stars Michel Piccoli as a cardinal who, against his wishes, is elected pope. Moretti co-stars as a psychiatrist who is called in to help the pope overcome his panic.
Drammatico: Il gioiellino (The Jewel) The movie helps to understand the largest bankrupt in Italian history, the description of how the CEO and CFO Parmalat hide a huge debt before collapsing.
Un giallo: Io Non Ho Paura (I'm Not Scared) is the story of a young boy in southern Italy that finds a child who has been kidnapped. Based on a true story. Director: Gabriele Salvatores
Un capolavoro:La grande bellezza (The Great beauty) Jep Gambardella, a 65-year-old journalist and once promising novelist, spends his easy life among Rome s high society in a swirl of rooftop parties and late-night soirees. But when he learns of the death of his friend s wife a woman he loved as an 18-year-old his life is thrown into perspective and he begins to see the world through new eyes. Director:Paolo Sorrentino
Commedia all'italiana: Divorzio all'italiana is a 1961 Italian comedy film with Marcello Mastroianni. This movie is really hilarious, and Mastroianni gives a perfect performance. The story is good, a great dark comedy, The movie won the Academy Award for Best Writing, Story and Screenplay; Mastroianni was nominated for Best Actor in a Leading Role and Germi for Best Director.
Un altro classico:Nuovo Cinema Paradiso A filmmaker recalls his childhood, when he fell in love with the movies at his village's theater and formed a deep friendship with the theater's projectionist.
Un premio Oscar: La vita è bella ( Life Is Beautiful) is a 1997 Italian comedy-drama film directed by and starring Roberto Benigni. Benigni plays Guido Orefice, a Jewish Italian book shop owner, who must employ his fertile imagination to shield his son from the horrors of internment in a Nazi concentration camp. Part of the film came from Benigni's own family history; before Roberto's birth, his father had survived three years of internment at the Bergen-Belsen concentration camp.
Drammatico: Il capitale umano (Human Capital), The destinies of two families are irrevocably tied together after a cyclist is hit off the road by a jeep in the night before Christmas Eve.
Un giallo da premio Oscar: Indagine su un cittadino al di sopra di ogni sospetto (Investigation of a citizen above suspicion ) is a 1970 Italian crime drama film directed by Elio Petri. It is a dramatic, psychological, black-humoured satire on corruption in high office, telling the story of a top police officer, played by Gian Maria Volonté, who kills his mistress, played by Florinda Bolkan, and then tests whether the police would charge him for this crime.
Una commedia: Il nome del figlio ( An Italian name), The extrovert Paolo and the beautiful Simona are expecting. At a dinner with Betta and Sandro, the refined and literate couple, and Claudio, the eccentric musician, one question will lead to an argument that will shake up the night: the name of Paolo and Simona's son.
Una commedia: Smetto quando voglio ( I can quit whenever I want) A university researcher is fired because of the cuts to university. To earn a living he decides to produce drugs recruiting his former colleagues, who despite their skills are living at the margins of society.
Una giornata particolare (A Special Day): is a 1977 Italian film directed by Ettore Scola and starring Sophia Loren and Marcello Mastroianni. Set in Rome in 1938, its narrative follows a woman and her neighbor who stay home the day Adolf Hitler visits Benito Mussolini. The film has received several nominations and awards, including a César Award for Best Foreign Film in 1978 and two Oscar nominations in 1977, and it is featured on the list of the 100 Italian films to be saved.Top 20 films locations in Italy
Comedy, crime and drama in Mio fratello è figlio unico (My brother is an only child) Growing up in small-town Italy during the '60s and '70s, brothers Accio (Elio Germano) and Manrico (Riccardo Scamarcio) embody and celebrate opposing political stances, but share an impassioned love of the same woman that threatens to drive them to blows.
La pazza gioia (Like Crazy) another comedy and drama. This is a 2016 Italian film directed by Paolo Virzì, starring Valeria Bruni Tedeschi and Micaela Ramazzotti. It tells the story of two women with different backgrounds who become friends while being treated at a mental institution.
Commedia: Perfetti sconosciuti (2016) Seven long-time friends (three married couples and a divorcee) are having a dinner. They decide, as a playful game, to put each one's mobile phone on the table and reveal every text message or phone call they would receive that evening, to prove that nobody has anything to hide. Hilarity and drama ensue together as everyone's secrets are unveiled and the seven friends find themselves perfect strangers to each other.
Best Italian movies based on books
To be continued….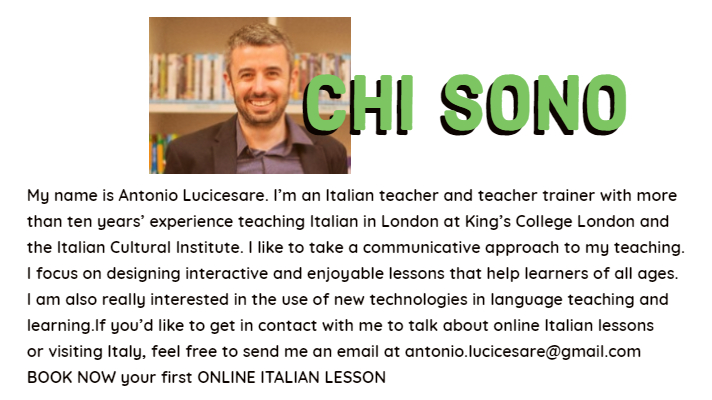 Catalogo dei film all'Istituto Italiano di Cultura

Italian cinema in London

Book your Italian lesson
Have you got a question for me? Email it to antonio.lucicesare@gmail.com