I just found this map of Italy by Classic Italian film and thought it is very stimulating, especially if you consider that the most productive regions (Lombardia, Emilia Romagna, Lazio and Sicilia above all others) seem to work with genres that are seen as more appropriate to the cultural atmosphere of their specific territory.
For example, immersed in the grey metropolitan scenarios of the workaholic Lombardia you will find bright examples of Italian noir of the early 70s, later turned into the exploitation subgenre known as poliziottesco (I milanesi ammazzano al sabato, which by the way is not the exact title of the movie, is just one of many quotable classics: see also unforgettable masterpieces like Milano calibro 9 or Milano odia: la polizia non può sparare) or several titles referable to the commedia comica tradition (Il ragazzo di campagna with comedian Renato Pozzetto is just one of the many quotable productions: see also the trashy masterpiece Fratelli d'Italia or one of the many movies starring singer Adriano Celentano, such as Lui è peggio di me).
On the other hand, Emilia Romagna, with its endless plains and its decadent moods, blooms with titles by maestros such as Federico Fellini and Bernardo Bertolucci: the first with his oniric and almost mystic approach to reality, obvious in the quoted classic Amarcord; the latter with his majestic fresco of Italian history that is Novecento, somehow continuing the realist tradition of early XX century Italian literature and the moods of some late neorealist classics (see Il Gattopardo by Luchino Visconti).
Special Courses in Rome: art, culture and cinema> book now
Lazio, being the region of political and spiritual power, suffers from a sort of good tempered parochialism, offering more than a title strictly related to the cultural and linguistic features of Rome and its sorrounding: the renowned Marchese del Grillo stands alongside many other historical dramas set in the papal Rome, such as Nell'anno del Signore or In nome del Papa Re, all presenting very strict references to roman dialects and famous roman vernacular poets (Giuseppe Gioacchino Belli and Trilussa above all others); later, neorealism will draw with both hands from the dramatic experience of nazist occupation of Lazio (La ciociara) and from the postbellic and postindustrial despair in the big city (Accattone and Amore Tossico, both starring amateur actors picked up from the streets).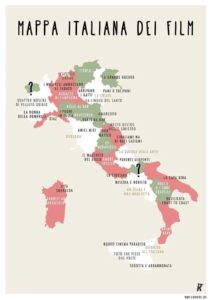 Finally, the harsh and yet amazingly beautiful scenario of Sicilia has inspired movies in which the cultural features of southern Italy are clearly recognizable: the unforgiving presence of traditional family, with its suffocating tentacles, and the women's role are two main topics in movies such as Divorzio all'italiana and Sedotta e abbandonata, both by Pietro Germi; and yet this accurate analysis of sicilian social structures sometimes leaves room to a more surrealistic approach, such as the one offerd in Totò che visse due volte by Ciprì & Maresco. Interestingly enough, movies about Mafia are not that common, or at least not as much as a foreign viewer might think…
by Enrico, teacher @ Kappa Language School in Rome