Ciao, the adventure continues! Destination: sea … Saturday: Gallipoli and the Punta della Suina, mar Ionio!
I enjoy the beauty of the crystal colors and the enchanting sea of Gallipoli with the famous beach Punta della Suina.
Gallipoli, known as the "perla dello ionio" (pearl of the Ionian), was besieged in 900 AD by Saracens, which gives the town plan.
With its port, the typical fish market, the castle and the Old Town, it has been beset from the fifteenth century by the Turks, Venetians and Aragonesi, but it is always more and more fascinating by its natural and monumental beauty.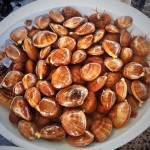 I walk and admire the typical environment of a port city: the port, the fish market for fresh fish and I enter in the historic center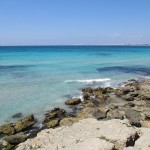 I remain dazzled by the wondrous castle and the many narrow streets with typical restaurants and shops selling local cuisine.
But Gallipoli is not only beautiful for that! Gallipoli is fascinating because it is as if the sound of the sea would evoke you among the many churches and monuments … just like a siren. It is a so nice and relaxing city  you'd never leave.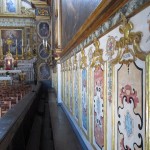 Punta della Suina, also on the Ionian sea is one of the most famous areas and the sea is very beautiful. The sand is fine, including a silvery and gold color and the beach is surrounded by rocks eroded over the centuries.
The landscape is very characteristic and just look at the many shades of sea water to run out of words!
And with a few hours in the sun, I enjoy the first taste of summer and…. un gelato!
Arrivederci…by Maria, Italian host tutor in www.italiahomestay.com, Lecce, Puglia 
To be continued…
Italian courses in Italy:live & study in your teacher home- follow Maria 
Read more:
Pettole, a traditional Italian recipe