Doing some dedicated research on the ancient town of Isernia, about 30 minutes away from Agnone, our base at Live and Learn Italian.
I always knew Isernia was there, not least to use the train station, but I had not explored the old town until last summer. It was a revelation – originally settled over 700,000 years ago, it then became an important Sannite colony. It is first mentioned in 295 BC, by which time it had already fallen into the hands of the Romans.
Barbara was a really wonderful guide, first taking us to the Fontana Fraterna in the main square – built of Roman and Romanesque materials. It was built in the 14th century and dedicated to Pope Celestine V. Barbara's Italian is beautiful and she was careful to speak piano, piano and to engage us. It is always my aim to have our guides bring visitors into a conversazione rather than a lezione and she was quick to pick this up.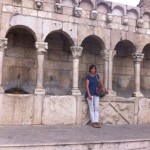 We then went underground to see the amazing Roman ruins still in the process of being excavated. Wandering through the alleyways afterwards we happened upon these women making lace. Clicking bobbins are still heard in these narrow alleyways  – where for 5 centuries the skills have been passed down generations. Today small family companies continue this work, managing both the production and marketing of the hand made lace. The cotton yarn is wound around a pair of bobbins, held in either hand, following a pattern traced on card. The yarn is fixed with pins and the four bobbins are crossed over, the right hand passing to the left and vice versa. These movements are repeated until the lace begins to take shape.  Over time the motifs and designs have changed but the basic stitches, techniques, and equipment have remained more or less the same.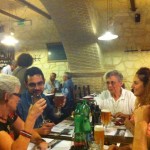 This summer we will spend some time with the lace-makers. There is so much more to explore and I really want to get to understand just why this region is so rich in artisan culture – bell making, copper work, ironwork, stonemasonry, lacemaking …………and more!The pizza was the best – we were joined by our teachers, Alessandro and Erminia, in their favourite restaurant. They both live in Isernia and were really glad to welcome us there!
by Jenifer @ liveandlearnitalian.com