Italy's Amalfi Coast is well known for its dramatic cliff-side views above the Mediterranean but also for places like Sorrento. It is a small town across the bay from Naples, with Mt. Vesuvius and Pompeii in between. The town is perhaps most famous for its production of limoncello, the sweet digestivo liqueur made from Sorrento lemons (which are as big as grapefruits).

During summer the town is perfect for strolling, getting a pizza, eating gelato, people watching, having espresso, and buying more limoncello. Of course, the beaches are also among the main attractions of the town. Sorrento is a great place for pedestrians: after 6 or 7 pm, the streets even close completely to cars, creating a peaceful, festive atmosphere.

You can spend your evenings drinking wine and strolling the quiet grounds through groves of olive and lemon trees, sometimes hearing the faint strum of a guitar or a mandolino (an instrument which originated in Naples), one night overhearing an open-air aria from a nearby amphitheater.

From the main Naples train station, Sorrento is easily accessible on the Circumvesuviana line, which runs around the Bay of Napoli. This line also provides direct access to Pompeii, where you can take a day trip during your Sorrento stay: the ancient, lava-buried city is an incredible site for the archeologists in all of us. Your imaginations will soar while contrasting the floor plans between noble homes and peasant neighborhoods, exploring the pizza ovens, jail cells, theaters and vineyards. There are even free bicycles for visitors to ride around the outer ring of the grounds, Vesuvius looming quietly less than 8 miles to the North.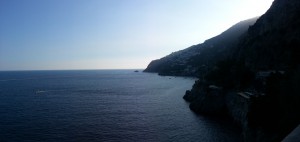 Other activities in the region include hiking along the Amalfi coast, high above the Mediterranean; riding the ferry to the alluring islands of Capri or Ischia; taking the train into the center of Naples to experience the "chaos" of Southern Italy's most notoriously town.
by Sant'Anna Institute-Sorrento Lingue
Read more:
And dreaming of your next trip to Italy,enjoy a great song…