Here in Mesagne, Puglia we had a hot and good summer enjoying our friends, students from over the world and the Italian good food and a lot of local Apulian festivals and folklore.
When in summer you decide to visit Puglia (Apulia), have a chance to tour the interesting sites by trying and tasting the different Italian caffè & gelati in each place. That is such a helpful and smart idea in order to overcome the heat: discover and taste all the different and yummy coffees served in Puglia.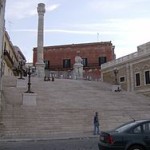 On your arrival have the first caffè freddo con ghiaccio (single espresso with ice): in Brindisi, facing the lovely view of the ancient Roman port with the Roman column marking the end of the ancient Appian way.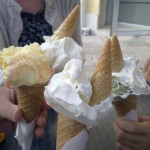 Then start driving up to the hill, and stop in Ostuni, having first gelato nocciola e pistacchio and then a good espressino freddo (macchiato with one cube of ice) and pretend to be a Pugliese, sitting in the square and people watching.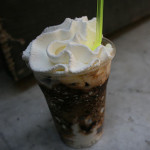 With the right energy, you will be ready to join the Apulian  inland and wondering in the fantastic hilly countryside with its red lands, vineyards, olive groves and magic trulli. Suddenly you will end up in the picturesque and authentic town of Cisternino near Alberobello and already at the bar in piazza asking granita di caffè con panna (coffee slushy with fresh whipped cream), to be tasted walking along  the white streets in the peaceful and amazing historic centre.
Once finished your granita it is time to visit the gentle and elegant Martina Franca, in the lovely Valle d`Itria and ask the handsome barista:"Un caffè shakerato per favore!"( freshly made espresso with a bit of sugar, and lots of ice)
And why not, a second gelato con mandorla e torroncino,  great flavours!
You might think that you had all the kind of coffees, but you are wrong… the new day will start with one more good flavour in Lecce: caffè con latte di mandorla ( coffee with almond milk)…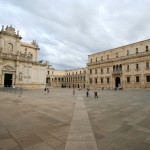 Last but not least, you will be sipping and having your caffè in Lecce, facing the Cathedral, part of a magnificent wide square of baroque buildings where the setting is spectacular. The interior is based on the Latin cross and was completed in 1659.
 Let's recap…
 In Italy at the bar (cafè) you can say: Prendo/Per me/ Vorrei…..con ….( Can I have/ For me/ I would like….with….)
caffè espresso> single espresso
espressino> macchiato
caffè shakerato> freshly made espresso with a bit of sugar, and lots of ice
caffè con latte di mandorla> freshly made espresso with ice and almond milk
latte freddo/caldo> cold/hot milk
Don't forget: During your Italian holiday when you ask for a "latte"  you get plain milk, or worse yet, steamed milk but the term as used in English is a coffee drink made with espresso and steamed milk, shortened form of the Italian caffè latte or caffellatte, which means "milk coffee". For example:" Per me un caffè latte con un cornetto vuoto per favore!"( For me a latte with a butter croissant please)
Buon viaggio e buon caffè!
by Michela, teacher @ lacanto.it, Puglia
Read more