That in Puglia, the land of sun and sea, it snows is rare and that it happens in Villa Castelli, country of wine and oil, is definitely an event!
But we have greeted the 2015 in this way!
On December 31st, each of us, every "castellano" stood up and, opening the windows, found a unusual, magical and sweet Villa Castelli, a  snowy Villa Castelli!
Could it be a message for the new year? A magic 2015?!? Well … let's keep our fingers crossed!
We did not missed the opportunity to get out on the street and meet all of our friends and students in the snow coming down in big flakes … oh wait, I forgot: Maya Louise saw snow for the first time and like any self-respecting Pug, she was virtually nestled in the snow and did not want to come off as the most immense surprise it was for her!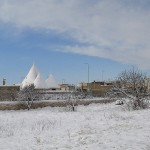 Every roof and every street was immersed in pure white snow and the cones of the trulli were so white that were almost mingled with the sky!
The old town, with the ravine and its Mediterranean maquis were completely white, only a few leaves differed. The children made snowmen and grandparents were at home making  "purcidduzzi". What are "purcidduzzi"? Hmmm a typical Christmas sweet (another)! So, for dinner everything would have been all ready: all at grandparents' house for dinner near the fireplace, to hear their always "legendary" stories and look at snowflakes from the window.
The view from our trullo was enchanting for me and the students! It seemed to be in one of those countries of the fairy tales where in the vast expanses of snow you meet the reindeer and the elves, maybe even Santa Claus (ah yes, he has already come and we wait for the Befana!), but we are in Villa Castelli, in Puglia!
The landscape was quite charming and a great surprise for us!
It was a shame (or fortunately) that lasts little, but tomorrow the sun will shine again and, to be honest, as an 100% Apulia…I can't wait!
by Maria, Italian host tutor in www.italiahomestay.com, Villa Castelli, Puglia 
Live & study in your teacher home: follow Maria