Why Sorrento for Spring?
Because for all the pizza and limoncello clichés, this handsome seaside town, on the rocky peninsula that forms the southern reach of the Bay of Naples, has la dolce vita spirit down pat. And because, if you're lucky with the weather, even this early in the year there are days that feel like high summer. By April spring is well and truly under way.
Dominating its own little bay-within-the-bay, Sorrento's seaside vocation is given historical depth by its wealth of Renaissance palazzi and Romanesque churches. It's a perfect hopping-off point for the even more vertical charms of the Amalfi Coast on the southern side of the peninsula, and for the elegant resort island of Capri, which is just a 20-minute ferry ride away.
Spend the morning … Wandering around Sorrento's Renaissance and Baroque centro storico, which makes up in southern charm what it lacks in stand-out sights. And although few of the package visitors that throng the town ever discover them, there are a few worthwhile cultural draws – such as the Museobottega della Tarisalignea, dedicated to the history of Sorrento's marquetry work, or the lovely 14th-century cloister of the church of San Francesco.
Spend the afternoon …
Exploring the Amalfi Coast, the vertical paradise of perched villages and rugged nature on the southern side of the Sorrentine peninsula.
Positano, the first of the Amalfi towns, is a Mediterranean marvel with its steeply-tiered pastel houses and dolce vita bars and boutiques; Amalfi, beyond, has a more medieval feel, and its Arab-Norman cathedral bears eloquent witness to the town's high-water mark between the ninth and 12th centuries, when it was a powerful maritime republic.
Spend the next day…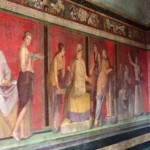 Being alternative. There's no denying that Pompeii, 17 miles from Sorrento is an amazing sight – an entire Roman town preserved in suspended animation as it was on the day in AD 79 when Vesuvius erupted and buried the place in volcanic ash. But Italy's most visited archaeological site is always crowded.
Head instead for the other great Vesuvian site, Herculaneum, Ercolano which has had a facelift and now offers a far more pleasant visitor experience. And with its wide suspended walkways, it's the only one worth considering for visitors with mobility difficulties.
Go shopping for…
Something other than limoncello. Inlaid intarsia furniture, or marquetry, is an ancient Sorrentine craft.
For local produce, head for the downtown outlet of organic farm Fattoria Terranova. Here you can buy homemade jams, savoury preserves, cheeses, olive oil and – yes, even limoncello – safe in the knowledge that they're genuine and local.
by Sorrento lingue,Italian language & Culture courses
Read more:
Learn Italian in Sorrento and visit Amalfi Coast
Limoncello, the original recipe