After the last successfull trips with our students, Giuseppe is heading to the heel of Italy's boot to discover a region with reasons to celebrate local food and history all year round.
Puglia: the region with the longest coastline of any region in mainland Italy, nature reserves, caves and cucina povera.
Our programme from the 9th of April to the 16th of April: 
Excursion to "Grotte di Castellana" and "Alberobello"
Excursion to "Altamura" with mozzarella and focaccia tasting
Excursion to "I Sassi di Matera" and dinner in a local restaurant
Excursion to "Gallipoli" and "Otranto"
Excursion to "Ostuni" and tour of LECCE: known as "the Southern Florence"
Have you got a question for us? Email it to gamoroso77@gmail.com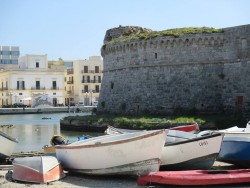 – All transport by private bus from arrival at Brindisi Airport until departure;
– Half Board Accommodation in the 4* Tenuta Moreno
1 afternoon at no charge in the hotel spa Tenuta Moreno 
Tenuta Moreno is a converted masseria with swimming pools and wellness centre
ACCOMMODATION
1) Single room – Half Board (breakfast & dinner)
2) Double room – Half Board (breakfast & dinner)
*minimum 6 participants
Italian lessons on request
ALITALIA FLIGHTS
• April 9th – from London City at 10.55am to Brindisi via Milan Linate
• April 16th – from Brindisi at 12.05pm to Heathrow via Milan Linate
Deposit by December 30th, 2015.
For info please contact Giuseppe Amoroso: gamoroso77@gmail.com
**any changes to the programme will be advised in good time