The last undiscovered region of Italy, Molise is also the youngest, until 1963 forming part of Abruzzi e Molise. This split created a region in the Apennine hills, covering 4,440 square kilometres with a population of 300,000.
Molise's density of population is 1/3 of the national average, it is bordered by Abruzzo to the north, Lazio to the west, Campania to the south, Puglia to the east and with a short north-eastern coastline on the Adriatic.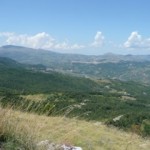 The main economy is agriculture with many family small holdings offering high-quality products produced by traditional methods. Cereals, excellent olive oil, vegetables, fruits and dairy products are the mainstay of the region. The local grape is Tintilia which has been rediscovered in the last ten years and is making a big resurgence.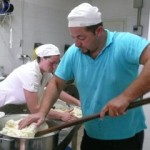 On an early morning visit to the family small holding of La Montagna, we see Donato work his cheeses. (We dubbed him the Donatello of Cheese, the work requiring not only great skill but strength!) Every day of the year the 10 family cows are milked and the pasta ( yes! the word used for the mixture of rennet and fresh milk used to create the cheeses) prepared for the daily production.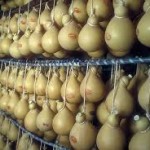 A favourite cheese which is particular to this part of Italy is caciocavallo (cheese on horseback) – two cheese forms being bound together with rope and left to mature by placing them a cavallo, straddling a horizontal stick or branch. It is made of sheep or goat's milk with a taste similar to provolone with a hard edible rind.
Other great cheeses of the region are ricotta, scamorza, treccia, and stracciata.
Like a lot of southern Italy, the cuisine is very simple but the produce is of extremely high quality and the locals wouldn't dream of eating anything not very fresh, seasonal, ripe or local!
Live and Learn Italian invites you to join us in Molise for a daily Italian lesson complimented with visits to local producers and cultural sights of interest, all in Italian. Our hosts are local people sharing a passion for their traditions, their produce, their heritage and most of all, their language.
With strong family connections to the town, I created this experience having come here myself to study the language and discovering a wonderful region, very much off the beaten track. Agnone boasts a rich cultural heritage and is a perfect place to discover the real Italy.You will find so many opportunities to engage with the community, practice the language and enjoy life in this small but unique town.
by Jenifer, liveandlearnitalian.com
Join Jenifer in July 2015, live and learn Italian,off the beaten track
Burning the old year in Molise