The ultimate luxury today is when you can disconnect, when you can decide to unplug your virtual life, switch off your phone and finally live the real thing.
Imagine to leave your smartphone, tablet, pc and connect, meet and talk to real people.
A "simple" holiday where SHARE means to have common experience with people from all over the world.
Speak a new language, learn and practise at the restaurant, cafes.
Comment and like mean is not only to click a button but see a new place, wander around, taste new food…. and this is always the best way to learn Italian.
A chance to meet the locals, eat authentic food, and understand more about the country.
Be the protagonist.
Live and celebrate life at his best, not through a screen. Nowadays we live an exhausting need to be permanently online, chat and reply to a text, update our virtual life, our status or respond to that all-important email.
Take a pause, don't miss the real thing, disconnect your virtual life…
and discover Italy: Sorrento
Discover Sorrento
Why Sorrento? Sorrento is situated on the west coast of Italy, twenty miles south of the city of Naples, on the spectacular Amalfi Coast.
Stunning islands of Capri and Ischia and the beautiful villages of the Amalfi Coast (Positano, Amalfi and Ravello).
Baroque splendor and world-famous collection at the National Archaeological Museum in Naples.
Majestic Greek temples at Paestum and historic Roman ruins of Pompeii and Herculaneum.
World's best known volcano, Mount Vesuvius.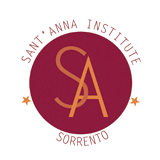 Why Sant'Anna Institute?
Sant'Anna Institute offers their students of Italian language an opportunity to experience the unique culture, customs and climate of southern Italy.
La scuola è situata nel cuore del centro storico di Sorrento, a pochi passi dal borgo marinaro di Marina Grande.
Descrizione:  antico convento di 4 piani – viale di ingresso circondato da giardino con piante della macchia mediterranea – ampio cortile esterno con tavolini e sedie – portineria – ascensore (e sollevatore per disabili) – reception – 11 aule dotate di 2 balconi ciascuna (alcune vista mare e alcune vista giardino), aria condizionata, TV, collegamento wi-fi, stereo – students' lounge con computer per accesso ad internet – laboratorio linguistico – angolo per ricreazione con distributore caffè, bevande e merende – sala insegnanti – biblioteca – sala lettura.