A week or more in Puglia doesn't have to cost a lot of money. There are plenty of great attractions, reasonably priced restaurants, and free events. Enjoy a great value holiday with our budget guide.
Ten things to do for under a tenner in Puglia
Rent a bike and discover the countryside: flat, easy roads transport you to the countryside where you are surrounded by ancient olive groves and vineyards.
Try the real Apulian street food: panzerotti, rustici, focacce, tarallini and also frise. Stop by your local bakery; you will not be disappointed by these delicious regional snacks!
Coast to coast by train or bus: a slow, bumpy journey starting from the old medieval city of Otranto on the east coast, stopping by Maglie and finishing at the magical city of Gallipoli on the Ionian coast, where you can watch the sunset over the sea.
Watch the world go by, over a pre-dinner spritz. Choose the right spot in the main piazza in Ostuni, the white city, or in piazza Duomo in Lecce and enjoy la dolce vita…
Rent a kayak and discover laghi Alimini: a beautiful corner of Puglia, not far from Otranto, and as yet unspoiled by mass tourism. Shh, keep it secret!
6. Taste the real gelato. Take an evening stroll and taste a cono or a coppetta of amazing tasty ice cream!
7.Visit Ceglie Messapica,a beautiful old town with a historic centre, popular for good, authentic food.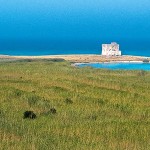 8.Eat,dance and sing! Summer is the season of festivals, from typical music, dance, and food to religious events. Pick the one you like the sound of, or follow la notte della taranta and discover Salento, the deep south of Puglia.
9.Go hiking in the peace of a natural reserve by the sea: enjoy a long relaxing walk in Torre Guaceto.
10. Finally, book a free taster Italian class in Puglia…
Have you got a question for me? Email it to antonio.lucicesare@gmail.com