At 7 years old, my son went to Italy to spend 10 days with Italian cousins to be immersed in the language. When I arrived to Agnone, to collect him, I was stunned when Luca accompanied me around town. He was greeted as though he had been there all his life – by other kids, cousins close and far removed, by shopkeepers, and anyone else he had been introduced to at least once. Comfortable and independent at 7! Agnone, a small town in Molise is the home of my grandfather. I had always felt a strong connection and deep link with our family history.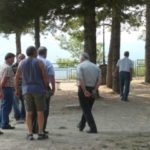 A few years later, studying in Agnone was a revelation, no one to speak English to, no tourists, and a slow life where people had time to engage with a lone foreigner as I struggled to ask a question, or directions, or to buy an etto of something delicious.  I was struck by how much they all loved their town and the pride they took in their traditions, crafts and produce. I didn't want to leave! I had found the best teacher ever, and felt very much at home.
And I really wanted to share the experience. How would it be if I came back, with friends? Live and Learn Italian was born. The activities develop naturally – someone has a speciality – be it a period of the town's history or the way they make a loaf of pane – it is surely interesting to converse about in slow and careful Italian, right? It helps that the town's heritage is steeped in an artisan culture going back centuries – my grandfather's cousins making the most famous bells in Italy since the year 900, for example.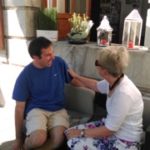 The community are our teachers as much as the professors of Italian. Cooking in Maria's kitchen helps to ease the strain of getting all the grammar in the right places – and we meet such interesting, warm and lovely people. This is an experience, not a language school – a chance to find your inner Italian, to live the slow life and continually put your learning into practice. The programme is constantly developing and growing but we stay small to keep the individual classes fewer than 5, and the total group under a dozen. The aim is to keep you well integrated, and staying small is a large part of that.
The project gets better and better with plenty of variety – we get returning customers each summer, so will keep finding new things to see and do. But it is a land of infinite richness – in culture, in history, in tradition, in crafts, and like all of Italy, plenty of culinary feasting and delight.
by Jenifer, student of Italian and founder of liveandlearnitalian.com
Few places left for summer 2016, book now-off the beaten track, an authentic town, a personal experience – a place to practice and learn, relax and enjoy.